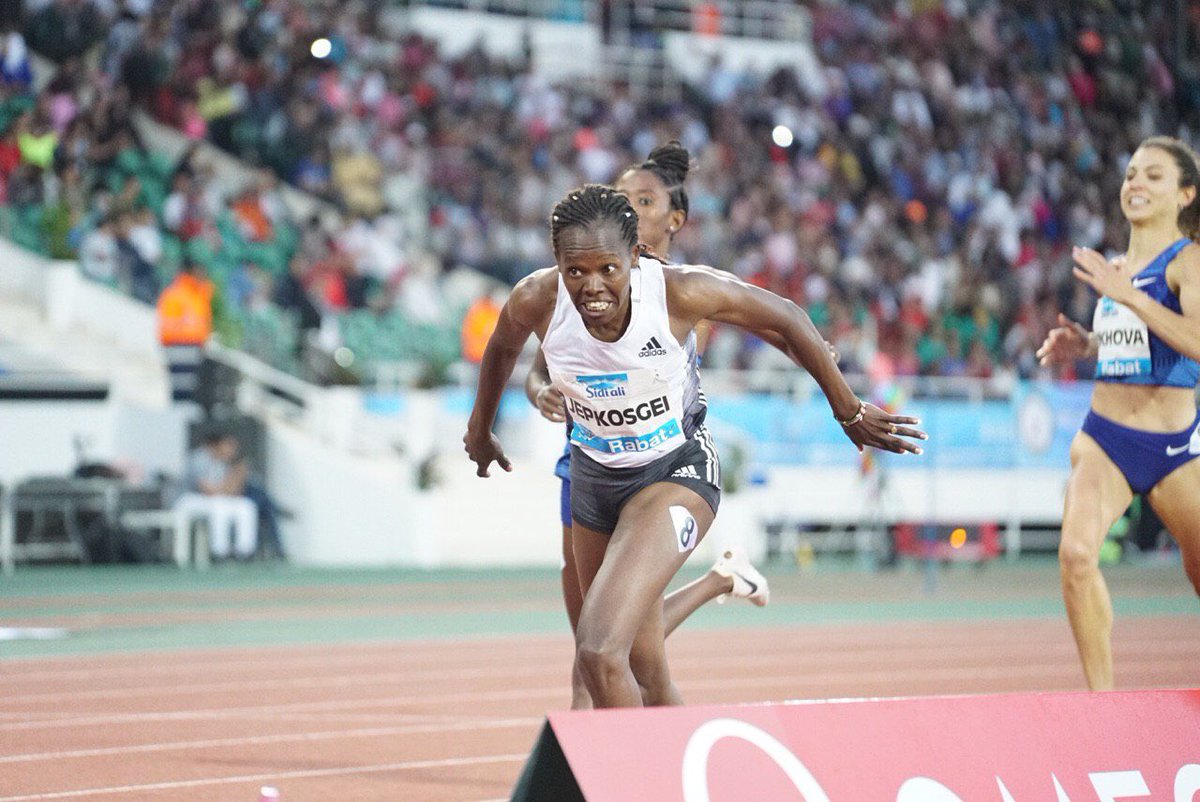 Nelly Jepkosgei winning the women's 800m race in Rabat
After the Rabat Diamond League meeting had ended, someone just posted on FaceBook; "when did the Ethiopians start winning the men's 3000m steeplechase races?!"
Well, perhaps their supremacy has just started at the Rabat Diamond League race last night as they took the first two places with Getnet Wale running a world-leading time, national record and personal best time of 8:06.01 to win the race ahead of Chala Beyo who finished second also in a personal best time of 8:06.48. Kenya's Benjamin Kigen tried hard, but his finishing kick could not allow him to catch the two Ethiopians as he finished third in 8:07.25.
The main story here is not that the Kenyans were beaten in their favorite race, but rather that one of the runners that have been seen as the biggest threat to Kenya's dominance; Soufiane El Bakkali was beaten to 11th position at his own home ground.
This year, the men's 3000m steeplechase event looks more open than it perhaps has ever been, given that there is no one runner who seems to be showing any form of dominance so far.
With the women's 1500m, Genzebe Dibaba continues to be the woman to watch here as she ran yet another world leading time and a new meeting record of 3:55.47 to win her second 1500m Diamond League race this year. Sifan Hassan staged a spirited fight to finish second in a national record and a personal best time of 3:55.93. Tsegay Gudaf registered a personal best time of 3:57.40 in third place.
Nelly Jepkosgei finally got to win her first diamond league race in the women's 800m having finished 4th in Doha and 3rd in Stockholm with her finish times this year consistently under two minutes in the event. Her winning time here was 1:59.50 ahead of Habitam Alemu's 1:59:90 in second and Olha Lyakhova's 2:00.35 in third.
Nijel Amos seemed to have perfected his strong finishing style in the men's 800m race having first used it a number of times in the past to upset the world record holder, David Rudisha starting from around 2013. He used it to overtake Emmanuel Korir in the home straight to win the race in 1:45.57 against Korir's 1:45.60. Clayton Murphy finished third in 1:45.99. Except for the surprise upset from Donavan Brazier in Rome, no one else has managed to beat Nijel this year.
Vincent Kibet won the non-diamond league men's 1500m race in a sprint finish edging Morocco's Hicham AkanKam to win it in 3:35.80 against 3:35.85 for Akankam. Alexis Miellet finished 3rd in 3:35.98.